How To Make Money On A Blog
There are three things you should be doing to learn how to make money on a blog.
While simple in practice, it takes dedication and work.
The devil is in the details.
Use your email list
Who do you know that doesn't have an email address? If you know people without an address, I bet you can count them on one hand.
When you tap into using email to market and promote your blog, you tap into a world of potential.
Sending email newsletters, updates, and promotions gets you directly in front of your customers. Of course, not every subscriber will open your emails, but, they will still see your name even if they click delete. And hey, they are thinking about you! If they need what you offer, chances are, yours will be the first website they visit.
Capture the email addresses of your readers by using a sign-up form on your site or by offering a freebie in exchange for their email address. Then, use the emails they give you!
I have been using Aweber for a while now and they do everything I need from an autoresponder.  To have a look at their service, click the link below.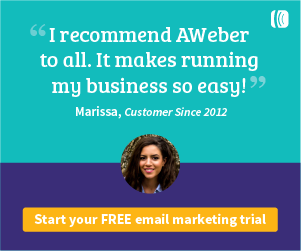 There are free autoresponders available and some giving you a free trial period. The links below will give you some idea on whether or not they'll serve your purpose.
Automate. Automate. Automate.
If you are doing the work software could be doing, you are misusing your time.
Yes, automation software can cost money, but balance that cost with how much you could be earning by spending your time generating new leads, developing stellar products/content, finding new readers, etc.
What do I mean by automate? If someone pays for an email series, you don't have to be the one pressing send each day at 10:00. You don't have to keep track of who should start the series on Monday and who is starting their series on Thursday. Software can automate that process.
Find where your work gets tedious and see if there is a program to automate it. If nothing else, if you are just getting started, check out IFTTT – a website that allows you to use an applet to hook up various programs to other programs and trigger automatic responses. For instance, there are applets that allow you to send a direct message to new twitter followers.
I have written an ebook containing 233 free online resources which may help your journey into making money with a blog.  Fill in the information in the box below to receive your FREE copy
Diversify.
Have you ever invested money?  
When you invest, one of the tips you are given is to diversify your investments. This protects you and helps stabilize your investments from the ups and downs of the market.
The same is true of your income revenue. Diversify it.
Find various revenue streams and start taking advantage of them. If, for instance, you have an online store, but sales slack one month, maybe that same month your advertising revenues will increase.
Diversifying helps stabilize your income for the long haul.
Click the link below to read more about different options for diversifying your income revenue.